Brothers Eric and Leigh Gibson, along with their band, also won two other awards – being named Vocal Group of the Year and taking Song of the Year honors for "They Called It Music," the title track of their latest album on Compass Records. Eric Gibson also was named Songwriter of the Year. The Gibson Brothers had garnered a collective eight nominations, individually and as an ensemble, last month.
Balsam Range, a western North Carolina-based band that received seven collective nominations, took home the Album of the Year trophy for Papertown. The Boxcars, who had six nods, were named Instrumental Group of the Year. Balsam Ridge band member Buddy Melton was part of a larger group – including Terry Baucom, Sam Bush, Jerry Douglas, Wyatt Rice and Steve Bryant – that won the Recorded Event of the Year award for "What I'll Do." Junior Sisk and Claire Lynch were named male and female vocalists of the year, respectively. The Emerging Artist of the Year Award went to Della Mae. Tony Rice and Paul Warren were the 2013 inductees into the Bluegrass Music Hall of Fame. Rice was inducted by two of his musical collaborators, Peter Rowan and Sam Bush. He also performed with his son Wyatt, Bush, Jerry Douglass, Ricky Skaggs and others.
The IBMA Awards Show – which was broadcast live on Sirius XM Satellite Radio (Bluegrass Junction) and syndicated to more than 300 U.S. markets and 14 foreign networks — is considered the centerpiece of the trade association's annual World of Bluegrass music week, Sept. 24-28.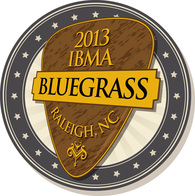 After a long stint in Nashville beginning in 2005, the IBMA partnered with The Greater Raleigh Convention & Visitors Bureau, PineCone – The Piedmont Council of Traditional Music, the City of Raleigh, and a local organizing committee to have the event in North Carolina's capital city for the next several years.
Other award winners include:
Gospel Recorded Performance: "Beulah Land" – Marty Raybon
Instrumental Recorded Performance: "Foggy Mountain Rock" – Tom Adams, Dan Tyminski, Ron Stewart, Dennis Crouch, Clay Hess (a song from a tribute album to Earl Scruggs)
Banjo Player of the Year: Mike Munford
Bass Player of the Year: Barry Bales
Fiddle Player of the Year: Jason Carter
Dobro Player of the Year: Rob Ickes (his 15th win in that category)
Guitar Player of the Year: Bryan Sutton
Mandolin Player of the Year: Adam Steffey (member of The Boxcars)
The Gibson Brothers were named Entertainer of the Year during the 24th Annual Bluegrass Music Awards show on Thursday night, Sept. 26, at Memorial Auditorium in Raleigh, North Carolina. It was the second straight year that the quintet from upstate New York received the International Bluegrass Music Association (IBMA)'s top honor. The Gibson Brothers last year ended a three-year winning streak by Steve Martin and The Steep Canyon Rangers, who hosted this year's show. That had been preceded by another three-year streak by the duo Dailey & Vincent.