The sixth annual Irish Music Awards were presented by the Irish Music Association on January 25, 2014 at O'Malley's Pub in Weston, Missouri. The awards were determined through online voting by the association's members.
RUNA, a Philadelphia, PA-based contemporary Celtic vocal and instrumental ensemble whose repertoire features traditional and more recently composed music from Ireland, Scotland, Canada and the Untied States and includes both high-energy and more graceful acoustic melodies, was named both Top Group and Top Traditional Group in a Pub, Festival or Concert. Keith Harkin, a singer-songwriter from County Derry, Northern Ireland, who also is a principal singer with the popular vocal group Celtic Thunder, won two awards for Top Solo Performer in Concert and Top Solo Performer in a Pub Venue.
"We are unbelievably excited and honored to be recognized with so many incredible artists," said Shannon Lambert-Ryan, who fronts RUNA with her rich, vibrant vocals. "We are so grateful to all of our fans (our spectacular RUNAtics) for their unending support and for voting for us," she continued, expressing thanks also to the Irish Music Association for its support of Irish music and culture. The five-member group, which previously won an award for Best Song in the World Traditional category in the 12th annual Independent Music Awards, is set to release its fourth album this spring.
Phil Coulter, a popular musician, songwriter and producer, who also hails from Derry, was honored with a Lifetime Achievement Award., while the Tommy Makem Award went to The Dubliners, an Irish folk band that played its final concerts last month, following a career that spanned more than 50 years.
A complete list of Irish Music Award recipients follows: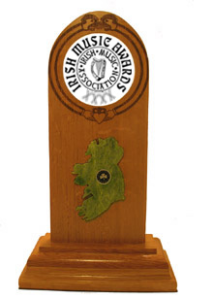 Top Solo Performer in Concert: Keith Harkin
Top Solo Performer in a Pub Venue: Keith Harkin
Top Duo in Pub, Festival, and Concert: Ryan Kelly & Neil Byrne
Top Group: RUNA
Best New Irish Music Artist(s): Gothard Sisters
Top Celtic Rock Band: The Fighting Jamesons
Best Irish Tenor (individual): Emmet Cahill
Best Female Vocalist (individual/traditional): Meav
Best Sean-nos Singer: Brid Ni Mhaoilchiaran
Top Traditional Performance Show: The Chieftains
Top Traditional Group – In Festival, Pub & Concert: RUNA
Tommy Makem Award: The Dubliners
Top Harpist: Moya Brennan
Top Uilleann Piper: Kieran O'Hare
Top Fiddle/Violin: Cora Smyth
Top Button Accordion: Danny O'Mahony
Lifetime Achievement Award: Phil Coulter
The Irish Music Association produces, promotes and perpetuates Irish music through sponsored events, festivals, concerts, pub shows, and an annual network production, according to its website.