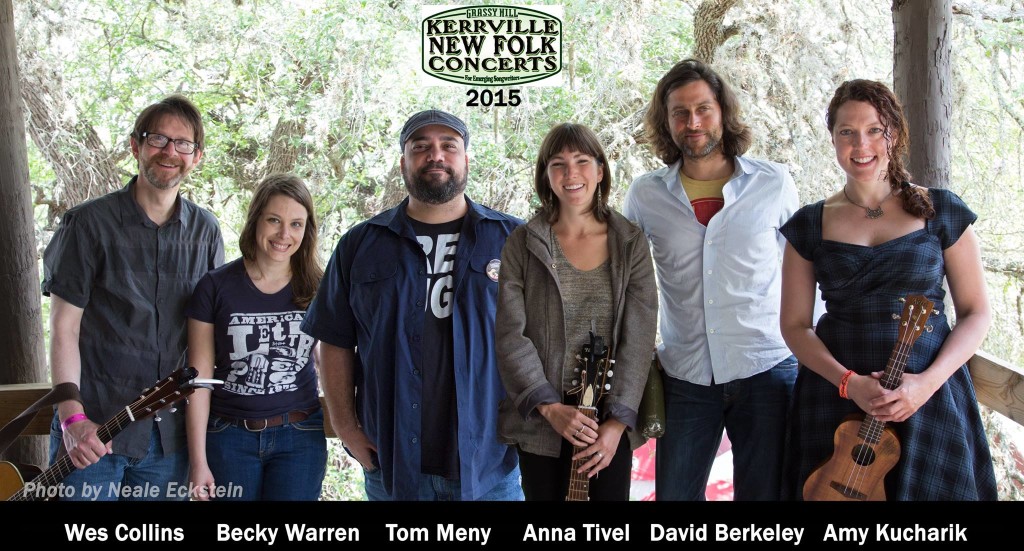 David Berkeley (Santa Fe, NM), Wes Collins (Chapel Hill, NC), Amy Kucharik (Somerville, MA), Tom Meny (Buda, TX), Anna Tivel (Portland, OR) and Becky Warren (Nashville, TN) have been named as winners in the 2015 Grassy Hill Kerrville New Folk Competition for Emerging Songwriters. The six winning songwriters were chosen from among hundreds of applicants following performances May 28-29 by 32 finalists during the New Folk Concerts held as part of the Kerrville Folk Festival in the Texas Hill Country.
After performing the two songs they each had previously submitted, the six were selected as 2015 New Folk Winners by noted songwriters David Wilcox and Ellis Paul, who served as judges. Each winner received a cash honorarium and other prizes, as well as the opportunity to return the following weekend with each performing a 20-minute set during a New Folk Winners concert at the festival on Sunday afternoon, May 31.
Established in 1972 at the urging of Peter Yarrow, the Kerrville New Folk Concerts have become a highlight of the annual festival that is geared towards singer-songwriters of various musical styles and is the longest continuously running festival of its kind in North America. Being named as a New Folk Winner is regarded as a very prestigious honor.
This year's Kerrville Folk Festival began on Thursday, May 21 and continues through Sunday, June 7. In addition to concerts each evening, Kerrville features "Ballad Tree" song-sharing sessions, campfire jam sessions, concerts and activities for children, organized canoe trips on the Guadelupe River and Hill Country bike rides, a professional development program for teachers, as well as a three-day songwriters school and instrumental workshops.