Kansas City, Missouri may be better known for jazz, blues, barbecue and the Royals. However, more than 2,500 people are expected to converge on this midwestern metropolis Feb. 17-21, 2016, for the 28th Annual Folk Alliance International Conference, a concurrent music camp, and a new Kansas City Folk Festival on Sunday.
Attracting more than 2,500 people, the Folk Alliance International Conference is ranked among the five largest music conferences in North America. It will feature a four-track series of professional development sessions (workshops and panel discussions) for artists, presenters, industry and community; a keynote address by legendary artist Judy Collins; regional and peer group meetings; mentoring sessions; a large exhibit hall; daily receptions; and plenty of opportunities for networking and jamming. Four nights of artist performances are slated — including nearly 200-juried official showcases and some 2,000 private in-room showcases that extend late into the night and early morning hours (with some also taking place during the afternoon).
While acknowledging "we certainly feature legends and luminaries," Aengus Finnan, FAI's executive director, notes that "the most exciting part of Folk Alliance are the showcases by artists you've never heard of but will never forget." Although performers from the U.S. and Canada predominate, artists from some 20 countries will showcase their talents.
The conference takes place in the Westin Crown Center, while FAI's Winter Music Camp (featuring nearly 100 master classes and group sessions for students of all ages with instruction geared towards all styles and levels of roots music and songwriting) will run concurrently at the adjoining Sheraton Crown Center. The hotels are linked by an enclosed above-ground walkway and connected to Hallmark's boutique shopping mall.
Expanded Awards Gala Slated for Feb. 17
Opening night on Wednesday will feature an extended awards gala with a reception and guest musical performances. Singer-Songwriter Steve Poltz emcees. Spirit of Folk and Lifetime Achievement Awards will be presented, along with several new member-voted "Best of 2015" Folk Music awards.
The Spirit of Folk Awards are presented to honor and celebrate people and organizations actively involved in the promotion and preservation of folk music through their creative work, community building, and demonstrated leadership. This year's six recipients are House of Songs founder Troy Campbell; 99-year-old Arkansas fiddler Violet Hensley; Sam Lee, an English traditional song collector and interpreter; Dave Siglin, who served as program director of The Ark in Ann Arbor, MI for 40 years; Phyllis Stenson, founding executive and artistic director of the Harrison Festival in Canada;and Tony Turner, a political songwriter and former Canadian civil servant whose song "Harperman" gained global attention last year.
Elaine Weissman Lifetime Achievement Awards, named for one of FAI's founders and determined by a select international panel, are presented annually to a living recipient, a memorial recipient and an active organization. This year's honorees are Ramblin' Jack Elliott (living), Sonny Terry & Brownie McGhee (legacy) and The English Folk Dance and Song Society (business/academic).
FAI also is introducing three new International Folk Music Awards for album, song and artist of the year. The winners, to be named Feb. 17, were selected by FAI members from a shortlist of finalists based in part on Folk DJ airplay during 2015, in addition to industry input on par with other FAI award processes.
The Nominees are (in alphabetical order): Album of the Year – With the Dawn by Bella Hardy, Joe Hill's Last Will by John McCutcheon, Tomorrow Is My Turn by Rhiannon Giddens, Jayme Stone's Lomax Project by Jayme Stone, and The Social Music Hour Vol. 1 by Spuyten Duyvil; Song of the Year – "Get Up" by Caitlin Canty, "Boston Town" by Della Mae, "A Wanderer I'll Stay" by Pharis & Jason Romero, "Best Medicine" by The Stray Birds, and "River Winding Down" by The Sweet Lowdown; and Artist of the Year – Chuck Brodsky, Darlingside, Fortunate Ones, Jerron "Blind Boy" Paxton, and We Banjo 3.
Kansas City Folk Festival, Feb. 21, is Open to the Public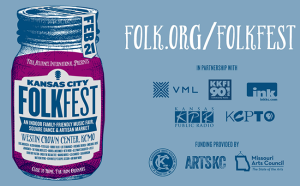 A reformatted daylong music fair, being promoted locally as an indoor folk festival (Kansas City Folk Fest), takes place on Sunday, Feb. 21, from 10 a.m. – 5 p.m. and is open to conference registrants, as well as to the public – with tickets priced at $30 for adults. Discounts are available for seniors, students and youth, while young children will be admitted free.
Friends will join Ken Whiteley, an acclaimed Canadian blues and roots artist, as he leads a morning gospel session. Main Stage performers — reflective of the broad range of folk music today — include legendary folksinger Eric Andersen ("Thirsty Boots"), Grammy Award winning banjoist Allison Brown, noted singer-songwriter Peter Case, Australian folk-pop band The Soorleys, and a closing concert by conjunto Tejano band Los Texmaniacs. Artists invited to showcase their talents by each of FAI's five regional affiliates are Johnsmith (FARM), Moors & McCumber (SWRFA), Underhill Rose (SERFA), Beth Wood (FAR-West) and The Young Novelists (NERFA). Among the Kansas City artists who will grace the festival's three stages are Ayllu, Ensemble Iberica, Sara Morgan, and Under The Big Oak Tree. Other artists scheduled to perform – culled from those participating in the conference – Matthew Byrne, Robby Fulks, The Jellyman's Daughter, Jerron 'Blind Boy' Paxton, Lisa Sander and Brown Sugar, and Sara Jane Scouten. Also slated are a square dance to be called by Kristen Andreassen, a folksong sing-along, and an artisans' marketplace.
This is the third successive year that Folk Alliance International is hosting its annual conference in Kansas City, where the nonprofit organization is also headquartered. Folk Alliance International (www.folk.org) seeks to nurture, engage and empower the international folk music community – traditional and contemporary, amateur and professional – through education, advocacy and performance.
Editors Note: A board member of both Folk Alliance International and its northeast regional affiliate (NERFA), I'll be moderating a panel discussion on "The Original Folk Revival" and providing some one-on-one mentoring on strategic communications and public relations, artist bios and one-sheets, social media and website content, and other topics during the conference.