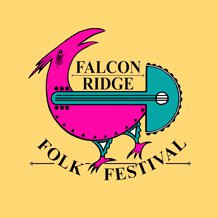 May 20 is the application submission deadline for the annual Falcon Ridge/Grassy Hill Emerging Artist Showcase. From among all entries received, 24 artists/acts will be selected for two-song/10-minute spots on the main stage on Friday, August 5, during the 28th annual Falcon Ridge Folk Festival.
An opportunity to be seen and heard in a large amphitheater setting, with hundreds of folk fans, presenters, agents, media and other music industry professionals in attendance, the showcase is open to all performing artists who have not previously showcased their talents in the last two years and who will not be appearing on stage in any other capacity this year. In evaluating submissions, a committee of three will look for high-quality performances of interesting, well-crafted, acoustic-based material that need not be original.
Selected artists, to be notified in mid-June, will be assisted by a stage and sound crew and may have their mailing lists, CDs and other merchandise available in the festival's sales tent. Their names will also appear in the festival program book. Although there is no compensation for showcasing, artists will receive full admission, on-site camping and meals for the festival, plus one guest pass per act. There is a $15 showcase application fee. Artists may submit materials online via Submittable: www.showcasefalconridgefolkfestival.submittable.com.
The Falcon Ridge/Grassy Hill Emerging Artists Showcase is not a contest, and artists won't be judged per se, although the audience is surveyed as to which showcase artists they'd like to see return the following year to participate in a Most Wanted Song Swap. This year's Most Wanted Song Swap will feature Annika Bennett, Gina Forsyth and Scott Wolfson & Other Heroes.
Among the Northeast's most popular music festivals, the Falcon Ridge Folk Festival, now in its 28th year, takes place August 5-7, 2016 at Dodds Farm on Route 7D in Hillsdale, New York, located in the foothills of the Berkshires near the tri-state corner of New York, Connecticut and Massachusetts. The festival features dozens of artists performing on several stages (including a dance tent), children's music and activities, and a wide array of crafts, food and other vendors.
Artists slated to perform during the festival include Brother Sun, Buddy System, The Felice Brothers, Freebo, The Gaslight Tinkers, Vance Gilbert, Great Bear Trio, The Green Mountain Playboys, Patty Larkin, Heather Maloney, The Mike & Ruthy Band, Peter Mulvey, Matt Nakoa, Nerissa & Katryna Nields, Pete's Posse, Sarah Potenza, Professor Louis & The Crowmatix, Tom Rush, Eric Schwartz, The Slambovian Circus of Dreams, SONiA, and The Storycrafters.
A pre-fest day of activities – including a farmers market and tastings in the Family Stage Tent during the afternoon and live performances on The Lounge Stage in the Dance Tent from 5-11 p.m. — also is set for Thursday, August 4.
Those camping at Falcon Ridge and staying up through the early morning hours can enjoy an array of informal jams, mini-showcases and after-hours song circles that help foster a sense of "folk" community and a different kind of festival experience. AcousticMusicScene.com will again host late-night music – in the form of pre-arranged unplugged song swaps — at Pirate Camp, located on or near the 10-Acre field.
Early-bird three-day festival tickets priced at $145 with camping or $110 without camping are available through May 15 and rise in cost incrementally after then. Single-day tickets are also available. Gates open for campers on Wednesday afternoon, August 3. More information can be found at www.falconridgefolk.com.