Twenty-four artists/acts have been selected to perform in the Emerging Artists Showcase during the Falcon Ridge Folk Festival on Friday afternoon, August 5, 2016, from noon to 4:30 p.m.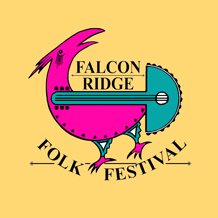 Appearing in this year's Falcon Ridge/Grassy Hill Emerging Artists Showcase are (listed alphabetically by last name or name of group, not in order of appearance): Marc Berger (Ithaca, NY), Sarah Beatty (Hamilton, ON, Canada), Chelsea Berry (Gloucester, MA), Bettman & Halpin (Denver, CO), Susan Cattaneo (Medford, MA), Kate Copeland (New York, NY), Cricket Blue (Huntington, VT), Brad Cunningham (Kansas City, MO), Heather Mae (Washington, DC), Lara Herscovitch (Durham, CT), Mike Herz (Newton, NJ), Jacob Johnson (Travelers Rest, SC), Low Lily (Brattleboro, VT), Austin MacRae (Ithaca, NY), Kipyn Martin (Columbia, MD), Kirsten Maxwell (Huntington, NY), Jaime Michaels (Santa Fe, NM), Paddy Mills (Brunswick, ME), Will Pfrang (Port Washington, WI), The Rafters (Ayer, MA), Elaine Romanelli (New York, NY), Rachael Sage (New York, NY), Putnam Smith with April Reed-Cox (Durham, ME), and Amy Soucy (Beacon, NY).
The Falcon Ridge/Grassy Hill Emerging Artists Showcase is not a contest, and artists won't be judged per se, although the audience is surveyed as to which showcase artists they'd like to see return the following year to participate in a Most Wanted Song Swap. This year's Most Wanted Song Swap will feature Annika Bennett, Gina Forsyth and Scott Wolfson and Other Heroes.
Among the Northeast's most popular music festivals, the Falcon Ridge Folk Festival, now in its 28th year, takes place August 5-7 at Dodds Farm on Route 7D in Hillsdale, New York, located in the foothills of the Berkshires near the tri-state corner of New York, Connecticut and Massachusetts. The festival features dozens of artists performing on several stages, a dance tent, children's music and activities, and a wide array of crafts, food and other vendors. A Pre-Fest Tastings Day & Farm Market is slated for Thursday, Aug. 4, featuring locally grown food, drink and artisanal items, along with performances by a number of artists from the late afternoon through the evening on The Lounge Stage presented by Tribal Mischief Productions.
This year's artist lineup includes Brother Sun, The Felice Brothers, The Gaslight Tinkers, Vance Gilbert, Great Bear, Patty Larkin, Metropolitan Klezmer, The Mike & Ruthy Band, Heather Moloney, Peter Mulvey, Matt Nakoa, Pete's Posse, Professor Louis & The Crowmatix, Tom Rush, Eric Schwartz & Freebo, The Slambovian Circus of Dreams (always a highlight at the dance tent), SONiA, The Storycrafters, and Annie Wenz, among others.
Those camping at Falcon Ridge and staying up through the early morning hours can enjoy an array of informal jams, mini-showcases and after-hours song circles that help foster a sense of "folk" community and a different kind of festival experience.
Three-day festival tickets are $185 with camping or $150 without camping. Single -day tickets also are available, as are discounted tickets for teenagers (ages 13-18). Gates open for campers on Wednesday afternoon, Aug. 3. More information on the Falcon Ridge Folk Festival can be found at www.falconridgefolk.com.
Editor's Note: Although I've enjoyed arranging and hosting late-night song swaps at Falcon Ridge under the banner of AcousticMusicScene.com for nearly a decade – in partnership with Tribes Hill and, more recently, Pirate Camp, I'm taking a break from doing so this year. While camping with friends at Pirate Camp, I plan to enjoy visiting various campsites and checking out a number of artists who are new to me.