Sam Bush had the top album (Storyman) and three of the four most-played songs on folk radio during July 2016. So say the airplay charts compiled by Richard Gillmann from radio playlists submitted to FOLKDJ-L, an electronic discussion group for DJs and others interested in all folk-based music on the radio.
The revered founder of newgrass music, Sam Bush is a Grammy Award-winning mandolinist, multi-instrumentalist and vocalist and the recipient of a lifetime achievement award from the Americana Music Association and numerous awards from the International Bluegrass Music Association. His new Sugar Hill release, which Bush describes as "my singer-songwriter" record, reflects his musical eclecticism as it incorporates elements of folk, jazz, blues, country swing and reggae, as well as bluegrass.
The July 2016 FOLKDJ-L charts are based on 14,796 airplays from 138 different DJs. Label and release date appear in brackets below, while the number of reported spins is shown in parentheses. The charts are posted on AcousticMusicScene.com, with permission.
Top Albums of July 2016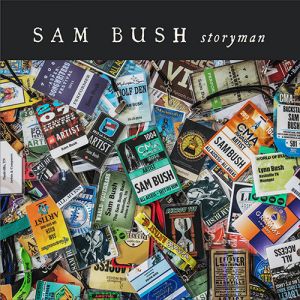 1: Storyman, Sam Bush [Sugar Hill, 6/16] (89)
2: 75th Birthday Celebration, Joan Baez [joanbaez.com, new] (68)
3: Pete, Woody & Me – Volume I: Keep The Flame Alive, Spook Handy
[Akashic, 6/16] (65)
4: Colvin And Earle, Shawn Colvin And Steve Earle [Fantasy, 6/16] (63)
4: Good Days a Comin, Ivas John [Right Side Up, 6/16] (63)
6: Undercurrent, Sarah Jarosz [Sugar Hill, 6/16] (61)
7: Live, Runa [runamusic.com, 7/16] (52)
7: Rattle And Roar, The Earls Of Leicester [Rounder, new] (52)
9: Heart Of A Song, Nancy Cassidy [Twitter Twatter, 6/16] (48)
10: Before Beginning, John Gorka [Red House, new] (46)
10: Doolin, Doolin [Compass, new] (46)
12: Mostly Fine, Susan Kane [susankane.com, new] (45)
13: Copper Rooster And Other Tunes And Tales, Gina Forsyth
[Waterbug, new] (43)
14: The Littlest Dobro, Ivan Rosenberg [Slosh-Tone, 6/16] (40)
15: Lift, Dave Gunning [Wee House, 7/15] (37)
15: Weights And Wings, Brother Sun [brothersun.com, 4/16] (37)
17: My Lucky Stars, Arnie Naiman [Merriweather, 5/16] (36)
17: River Waiting, Connla [connlamusic.com, new] (36)
19: Daughters, Mollie O'Brien And Rich Moore [Remington Road, 6/16] (33)
19: Misfit, Lara Herscovitch [La Rama, new] (33)
19: Say That Now, Ana Egge And The Sentimentals [Grace, 6/16] (33)
22: Mud And Apples, Lucy Wainwright Roche And Suzzy Roche [Bunny, 5/16] (32)
23: Calla's Waltz, Jed Marum [Boston Road, 3/16] (29)
24: Broke In Brooklyn, Millpond Moon [Tikopia, 2012] (28)
25: The Country Blues, Rob Ickes And Trey Hensley [Compass, 7/16] (27)
25: Del And Woody, Del McCoury Band [delmccouryband.com, 4/16] (27)
25: Flight, Coty Hogue [Perpetual Hoedown, 5/16] (27)
25: Good Dirt, Kristine Schmitt [kristineschmitt.com, 5/16] (27)
25: The K.O.A. Tapes (Vol. 1), Kate Campbell [Large River, 1/16] (27)
25: The Tumbling River, Chris Coole [Northern, 4/16] (27)
31: Too Big World, Bumper Jacksons [bumperjacksons.com, 6/15] (26)
31: American Landscape, Dave Murphy [davemurphy.net, 5/16] (26)
31: Here I Am, Rebekah Long [LUK, 5/16] (26)
31: In Her Dream, Julie Parisi Kirby [Jaiya, 9/15] (26)
31: Jump The Fire, Evie Ladin Band [Evil Diane, 5/16] (26)
31: Keepsake, Gathering Time [Treble-G, 3/16] (26)
31: Once Upon A Different Time, Jaime Michaels [Frumdahart, 6/16] (26)
31: Red Grass, Ilya Toshinskiy [Hadley, 5/16] (26)
31: Still The Birds, Darryl Purpose [Blue Rock, 5/16] (26)
31: Tempest And Rapture, The Deer [Owl Bum, 5/16] (26)
31: Young In All The Wrong Ways, Sara Watkins [New West, 7/16] (26)
42: Deep Waters, The Lonely Heartstring Band [Rounder, 6/16] (25)
42: Stranger To Stranger, Paul Simon [Concord, 5/16] (25)
42: Wild Blue Yonder, The Western Flyers [Self, new] (25)
45: Before Darkness Comes A-Callin, The Weeping Willows [Self, 4/16] (24)
45: The More I Learn, Bryan Sutton [Sugar Hill, 6/16] (24)
47: Nine Pin, Kaia Kater [Kingswood, 5/16] (23)
47: Blue Skies, Mountain Heart [Compass, 5/16] (23)
47: These American Blues, Levi Parham [Music Road, 6/16] (23)
47: True Sadness, The Avett Brothers [Republic, new] (23)
47: Washashore Cowgirl, Monica Rizzio [monicarizzio.com, 2/16] (23)
52: Bywater, Bywater Band [Fresh Haggis, 1/16] (21)
52: Old Songs For Modern Folk, Vincent Cross [Rescue Dog, 4/16] (21)
52: Sing Me Home, Yo-Yo Ma And The Silk Road Ensemble [Masterworks,
4/16] (21)
55: Aren't We Lucky, Andrew John And Lissa [Self, 2012] (20)
55: Nothin's Too Easy, Ragged Mountain String Band [Self, 6/16] (20)
55: Ramblin Feels Good, Jeff Scroggins And Colorado [Self, new] (20)
55: Sometimes I Feel Too Much, Cosy Sheridan [cosysheridan.com, 3/16] (20)
55: Square Peg, Marci Geller [marcigeller.com, 12/15] (20)
55: Sunny Jim, James Gordon [Borealis, 7/16] (20)
55: Trail Of Tales, The Bills [Borealis, 3/16] (20)
62: Seven Sonnets And A Song, Paul Kelly [Cooking Vinyl, 4/16] (19)
62: American Tunes, Allen Toussaint [Nonesuch, 6/16] (19)
62: Peaceful Waters, Geoff Samuels [Self, 5/16] (19)
62: Spring Tide, Beth Wood [Self, 6/16] (19)
62: Weighted Mind, Sierra Hull [Rounder, 1/16] (19)
67: Coming Home, O'Connor Band with Mark O'Connor [Rounder, new] (18)
67: Crowes Pasture, Crowes Pasture [Self, 5/16] (18)
67: I Shook The Tree, Karen Savoca [Alcove, 4/16] (18)
67: O Brother, Where Art Thou? Soundtrack, Various Artists
[Mercury, 2000] (18)
67: One Of These Days, The Regulators [Self, 3/16] (18)
67: Rattle Your Bones, The Haunted Windchimes [Blank Tape, 5/16] (18)
67: This Land: Woody Guthrie's America, John McCutcheon
[Appalsongs, 2011] (18)
67: The World Is Old Tonight, Atwater And Donnelly [Rabbit Island, 6/16] (18)
Top Songs of June 2016
1. "Play By Your Own Rules" (18)
by Sam Bush
from Storyman
2. "I Saw A Stranger With Your Hair" (17)
by John Gorka
from Before Beginning
3. "Bowling Green" (16)
by Sam Bush
from Storyman
3. "Everything Is Possible" (16)
by Sam Bush
from Storyman
5. "Down In The Milltown" (15)
by John Gorka
from Before Beginning
6. "Early Morning Light" (14)
by Sarah Jarosz
from Undercurrent
7. "Can't Help But Wonder Where I'm Bound" (13)
by Ivas John
from Good Days a Comin
7. "Train That Carried My Girl From Town" (13)
by The Earls Of Leicester
from Rattle And Roar
9. "Ain't No Grave" (12)
by Runa
from Live
10. "Brown Eyed Women" (11)
by Susan Kane
from Mostly Fine
10. "Will The Circle Be Unbroken / The Flame" (11)
by Lara Herscovitch
from Misfit
12. "Branching Out" (10)
by John Gorka
from Before Beginning
12. "Clampett" (10)
by Ivan Rosenberg
from The Littlest Dobro
12. "Galway Girl" (10)
by Doolin
from Doolin
12. "Maggie's Farm" (10)
by Mountain Heart
from Blue Skies
16. "American Tune" (9)
by Allen Toussaint
from American Tunes
16. "Barbed Wire" (9)
by Millpond Moon
from Broke In Brooklyn
16. "Come What May" (9)
by Shawn Colvin And Steve Earle
from Colvin And Earle
16. "Maggie At The Door" (9)
by Arnie Naiman
from My Lucky Stars
16. "Miss The Bus" (9)
by Dave Murphy
from American Landscape
16. "Moon And Stars" (9)
by Connla
from River Waiting
16. "My Oklahoma Home Blowed Away" (9)
by Spook Handy
from Pete, Woody & Me – Volume I: Keep The Flame Alive
16. "One Last Time" (9)
by Sara Watkins
from Young In All The Wrong Ways
16. "Reflections On Moonstone Beach" (9)
by The Deer
from Tempest And Rapture
16. "Sing It Louder" (9)
by Dave Gunning
from Lift
16. "Take Another Turn" (9)
by Sarah Jarosz
from Undercurrent
16. "Tell Moses" (9)
by Shawn Colvin And Steve Earle
from Colvin And Earle
16. "These American Blues" (9)
by Levi Parham
from These American Blues