Thousands of music lovers are expected to converge on Old Pool Farm in Upper Salford Township, near bucolic Schwenksville, Pennsylvania, Aug. 18-21, for the annual Philadelphia Folk Festival. Now in its 55th year, the event, produced and presented by the Philadelphia Folksong Society, is the longest continuously running musical festival of its kind in North America.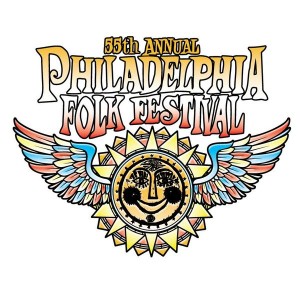 Among the dozens of artists and acts slated to perform are Mike Agranoff, April Mae & the June Bugs, Boris Garcia, Michael Braunfeld, Bumper Jacksons, Burning Bridget Cleary, Mya Byrne, Meghan Cary with Analog Gypsies, CJ Chenier and the Buckwheat Zydeco Band, Darlingside, Del & Dawg (living legends of bluegrass Del Mc Coury and David Grisman), Iris DeMent, John Flynn, Fortunate Ones, John Francis, Sam Gleaves, The Hello Strangers, Si Kahn, Christie Lenee, The Lone Below, Los Lobos, Mist Covered Mountains, Peter Mulvey, David Myles, Mollie O'Brien & Rich Moore, Pine Leaf Boys, River Whyless, Katherine Rondeau, Buffy Sainte-Marie, Session Americana, Sharon Shannon, Roger Sprung, Spuyten Duyvil, The Stray Birds, Marty Stuart & His Fabulous Superlatives, Tall Heights, Tempest, Vishten, Toby Walker, Robin & Linda Williams, Avi Wisnia, Scott Wolfson & Other Heroes, The Wood Brothers, and Peter Yarrow.
As the names above suggest, the Philadelphia Folk Festival features an eclectic mix of traditional and contemporary music that stretches the boundaries of folk, helping to broaden its appeal and reach a new generation of listeners. Both notable national and international touring artists and emerging ones are on the bill.
Through a new partnership with the Northeast Regional Folk Alliance, a regional affiliate of Folk Alliance International, the festival will showcase the talents of three up-and-coming 20-something artists – Kaia Kater, Kirsten Maxwell and Ethan Pierce– during a NERFA Presents Young Folk song swap on Saturday morning. Maxwell will also be part of a Next Gen Folk set on Friday (along with Deer Scout and Jason McCue) and a Sunday afternoon Songsmiths session (with Michael Braunfeld, Sam Gleaves and Peter Mulvey), while Kater joins David Myles in a Sunday afternoon Oh Canada! set.
In addition to musical performances and workshops on eight stages – including contradancing with Groovemama, a Martin Guitar Jam and an old time & bluegrass jam — there will be an array of children's activities and kid-oriented musicians in the shady Dulcimer Grove. Singer-songwriters and social activists John Flynn and Si Kahn will conduct a short workshop on "The Role of Musicians in Movements for Social Justice. "
As in years past, many artisans will display and sell their creations in an open-air juried crafts area.
There's also a festival within the festival for those who opt to camp onsite and enjoy some late-night musical revelry. The 40-acre campground – chock-a-block with tents — is home to a unique late-night scene, with singing by campfires and jamming into the early morning hours. David Dye, host of the syndicated World Café radio program, will host a special Thursday night concert on the Camp Stage –featuring Liz Longley, Quiet Life and The Sheepdogs — exclusively for all-festival camping ticket holders.
For more information about the Philadelphia Folk Festival and to order tickets, visit
www.pfs.org/Philadelphia-folk-festival/55th-folk-festival/.
Editor's Note: As vice president of the Northeast Regional Folk Alliance (NERFA) board of directors, I have the honor and pleasure of hosting the "NERFA Presents Young Folk" showcase on Saturday, Aug. 20.