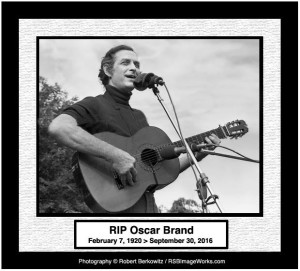 Oscar Brand may well have been the first folksinger and songwriter who I saw perform live when I was a youngster. My parents brought me to see him at a local library on Long Island, NY, where Brand, who died of pneumonia Sept. 30 at age 96, also lived with his family. Over the years, I saw him perform in concert and at festivals and special events many times — most recently at the opening reception for the Folk City exhibit at The Museum of the City of New York last year.
Brand was a major player on the folk scene in New York (and beyond) – not only as an energetic, prolific and versatile performing and recording artist, but also as host of the world's longest continuously running weekly radio show with a single host — as confirmed by Guinness Book of World Records.
Beginning in 1945 and for more than 70 years, Brand hosted Folksong Festival on WNYC, a public radio station – and he did so weekly without any compensation. His last show – a mix of music and conversation, punctuated with humor — aired on Sept. 24. The recipient of a George Foster Peabody Award in 1995 for 'more than 50 years of service to the music and messages of folk performers and fans across the world," Brand played a diverse array of music and engaged in conversations with many of the artists who performed and recorded the songs on his show. Woody Guthrie (who he met around 1939 and to whom he paid tribute in a 2001 PBS documentary entitled Woody & Me that he wrote, directed and hosted) was one of his early guests. Among the other musical luminaries who appeared on Folksong Festival over the years were Joan Baez, Harry Belafonte, Harry Chapin (with whom I also saw him perform in concert at my alma mater, Huntington High School), Judy Collins, Bob Dylan, Lead Belly Joni Mitchell, Phil Ochs, Odetta, Tom Paxton, Ramblin' Jack Elliot, Pete Seeger (with whom he worked on the People's Songs newsletter), and Suzanne Vega.
Brand was blacklisted in 1950 in Red Channels: The Report of Communist Influence in Radio & Television, although he was never called to testify before the House Un-American Activities Committee. He continued to invite politically active artists onto his radio show.
Through the years, Brand recorded hundreds of songs – his own compositions and those of others — on some 100 albums. These ranged from collections of bawdy ballads to political campaign songs, drinking songs, sea shanties, vaudeville numbers and children's songs, among others. His composition "Something to Sing About [This Land of Ours]" is viewed as an unofficial national anthem in Canada.
He also hosted the weekly Canadian children's television series Let's Sing Out that aired on CBC during the 1960s and featured such then-emerging talents as Leonard Cohen and Gordon Lightfoot, and was part of an advisory panel that created Sesame Street. Brand believed he was the namesake for the popular PBS children's series' character Oscar the Grouch. He also hosted the National Public Radio program Voices in the Wind during the 1970s, a top-rated Canadian show called Brand New Scene, and was host and co-producer of American Odyssey on New York's WNET Channel 13, as well as a couple of children's TV shows stateside. He also was engaged in writing for dozens of documentary films for which he won numerous accolades and awards; wrote and composed for and/or appeared in hundreds of television commercials; and authored a number of books and music manuals.
The curator of the Songwriters Hall of Fame in New York, Brand also saw his songs covered by others. Doris Day's rendition of "A Guy is a Guy," Brand's reworking of an old English pub song, was a #1 hit on the Billboard chart in 1952.]. He also wrote songs for the Broadway musicals A Joyful Noise and The Education of H*Y*M*A*N K*A*P*L*A*N.
Along with David Amram and the late Theodore Bikel, Brand was part of the Northeast Regional Folk Alliance (NERFA)'s first annual Wisdom of the Elders panel discussion in 2010.
Born Feb. 7, 1920 on wheat farm near Winnipeg, Manitoba, Brand moved with his family to Minneapolis, MN as a youngster and later to Chicago, before settling in Brooklyn, NY where he graduated from Erasmus Hall High School and Brooklyn College. While growing up, he aspired to be a writer and started writing professionally – for radio and television — while still in high school. Although he attended Brooklyn College to learn writing and journalism, he wound up earning a degree in psychology since those were the only courses in which he reportedly earned A's. After a stint in the U.S. Army, he moved to NYC's Greenwich Village and immersed himself in its then-burgeoning music scene during the 1940s American folk music revival.
Brand leaves behind his wife Karen and their son Jordan, three other children from a previous marriage — Jeannie, Eric (with whom I graduated from Stony Brook University) and James, and nine grandchildren.