A foundation has been established in memory of Michael Troy, a locally revered singer-songwriter and guitarist from Fall River, Massachusetts who succumbed to cancer last November at the age of 64. Funds raised during a Nov. 6 benefit concert for the Michael Troy Memorial Music Foundation, Inc. will support the music department at B.M.C. Durfee High School, Troy's alma mater.
The newly formed nonprofit organization aims to "provide a safe and supportive place for our future musicians and songwriters, where they have access to instruments and performance equipment, as well as the technology used in today's world of music," according to its mission statement.
Although he had a lifelong love of music, Troy, who grew up in Fall River and raised his own family there, didn't turn to music full-time until he was in his 40s. He previously worked as a fisherman, a carpenter, a mill worker, and a laborer in and around the small New England city dotted with 19th century textile mills, associated with the Lizzie Borden case, and also known for its Portuguese culture and for Battleship Cove, a collection of World War II naval vessels docked in its harbor.
Considered by many to be the poet laureate of Fall River, Troy combined his music with storytelling in poignant, poetic songs – often sad but beautiful – many focusing on aspects of life in his hometown. Just weeks before he died, a number of area artists joined him on Oct. 25, 2015 at Fall River's Narrows Center for the Arts to celebrate the release of his fourth and last CD, I Am American, which contained tales of faith, family and friendship.
In that same spirit, a number of Troy's musician and singer-songwriter friends will gather at that same venue on Sunday afternoon, Nov. 6, from 1-4 p.m., to sing his songs and help keep his music alive while raising funds for the foundation that bears his name. Tickets for the concert, priced at $25, may be purchased online at www.narrowscenter.org. A GoFundMe site (www.gofundme.com/michaeltroymusic) has also been established as a vehicle for contributions from anyone who cannot attend the concert but wishes to support the foundation.
Here's a link to view a short video promoting the Michael Troy Memorial Music Foundation Benefit Concert:
https://www.youtube.com/watch?v=Wy8IRUd0_OA&feature=youtu.be
Chuck Williams, president of the Rhode Island Songwriters Association (RISA) and of the new foundation, said that he bonded with his fellow songwriter one evening in late 2003 while Troy was in the midst of "finishing up his second CD, Romancing the Moon, and test-driving some of the new songs at a local venue." The following year, Troy played the title track in the Boston Folk Festival Songwriting Contest and won top honors. Four years later, he and Williams collaborated on a song called "I Want My Country Back."
"We eventually wrote two more songs that have yet to be recorded," Williams told AcousticMusicScene.com, noting that they'll be on his next CD. Williams began booking gigs for Troy in the summer of 2009 and continued to do so until he could no longer perform. "We had a very difficult discussion to cancel his full schedule for 2015 that January," he said.
Asked what prompted the launch of the foundation and the concert to benefit it, Williams said: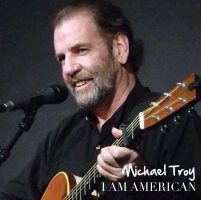 "Michael and his wife, Marylou Manuels, had visited B.M.C. Durfee High School and were surprised at how small the marching band was. They wondered why and started thinking that maybe they didn't have instruments. They also wondered if there was a way to help. He talked to me about that and his music legacy in his last months, as he was concerned he wouldn't be able to tour to promote his last CD, I Am American. 

As it turned out Durfee had instruments; they just didn't have interested students. But, they did have a good music department, including songwriting… So, to keep my pledge to him to keep his music 'out there,' the idea of the foundation came to mind. With the foundation I could ensure his musical legacy would carry on, that his alma mater had additional funding for equipment, and that his music would reach future generations of songwriters."
According to Williams, the thought of Neil Young's annual Bridge School Benefit was the seed for this benefit tribute concert that he views as a way to duplicate the 'love fest' that folks had at Troy's October 2015 CD release show.