Illinois-based singer-songwriter Joe Jencks had the most-played album (Poets, Philosophers, Workers and Wanderers) on folk radio during May 2017 while Willie Nelson's "Still Not Dead" was the month's #1 song. Jencks also was the month's most-played artist, while Nelson was #2. So say charts compiled by Richard Gillmann from radio playlists submitted to FOLKDJ-L, an electronic discussion group for DJs and others interested in all folk-based music on the radio.
"Poets, Philosophers, Workers & Wanderers is an emotional powerhouse," says Ron Olesko, host of Traditions on WFDU (Teaneck, NJ). "Joe Jencks provides us with much needed inspiration and hope and reminds us what 'love' is really all about." Claiming to be "literally stunned" by Jencks' new solo album, Sirius XM Radio's MarySue Twohy says it "tells our stories, his story, and the untold stories, as an American folk master can – with heart and unfettered perfection. Add this one to the folk canon." Rich Warren, longtime host of the nationally syndicated The Midnight Special that emanates from Chicago's WFMT, asserts: "Jencks's captivating tenor voice, lofted by flawless production, demonstrates music of conscience and provides a feast for the ear and nourishment for the soul." And John Platt, host of Sunday Supper on New York City's WFUV, maintains "what really shines through on Joe Jencks new album are his resonant, honey-rich voice, his open-ended humanity, and his commitment to social justice." Jencks is also part of the folk harmony trio Brother Sun that's disbanding later this year.
The May 2017 FOLKDJ-L charts are based on 13, 911 airplays from 140 different DJs. Label and release date appear in brackets below, while the number of reported spins is shown in parentheses. The charts are posted on AcousticMusicScene.com, with permission.
Top Albums of May 2017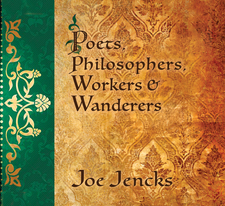 1: Poets, Philosophers, Workers And Wanderers, Joe Jencks [Turtle Bear, new] (95)
2: Against All Tides, Harpeth Rising [harpethrising.com, 5/17] (76)
3: God's Problem Child, Willie Nelson [Legacy, 4/17] (73)
4: God Bless The Grass, The Malvinas [Soona, 4/17] (68)
5: The Fairest Flower Of Womankind, Lindsay Straw [lindsaystraw.bandcamp.com, 4/17] (58)
6: A Stranger In This Time, Tim Grimm And The Family Band [Vault, 3/17] (55)
7: Different Hymnals, Joel Mabus [Fossil, new] (53)
8: Smoke Behind The Clouds, The Bucking Mules [Free Dirt, 4/17] (50)
9: Where The River Meets The Road, Tim O'Brien [Howdy Skies, 3/17] (48)
10: Tunes From David Holt's State Of Music 2, Various Artists [High Windy, 4/17] (46)
11: Eyes Brand New, Zoe And Cloyd [zoeandcloyd.com, 4/17] (45)
12: Turn Your Face To The Sun, I Draw Slow [Compass, 4/17] (44)
13: One Light Many Windows, Merlin Snider [Barking Dog, 10/16] (43)
14: Wild As We Came Here, The Steel Wheels [Big Ring, 3/17] (42)
14: You've Been Away So Long (EP), Alice Howe [alicehowe.com, 2/17] (42)
16: Americana, Ray Davies [Legacy, 4/17] (41)
16: Shame, Rachel Baiman [Free Dirt, new] (41)
18: Fading Mystery, Taarka [taarka.com, 1/17] (38)
18: Transient Lullaby, The Mastersons [Red House, 5/17] (38)
20: Phat Live, Phil Henry Acoustic Trio [philhenryband.com, new] (37)
20: Treasure Of The Broken Land: The Songs Of Mark Heard, Various Artists [Storm Weathered, new] (37)
22: Almost Anyone, Montgomery Delaney [montgomerydelaney.com, 4/17] (35)
22: Freedom Highway, Rhiannon Giddens [Nonesuch, 2/17] (35)
22: TajMo, Taj Mahal And Keb' Mo' [Concord, 5/17] (35)
25: Trip To Walden Pond, Hanneke Cassel [hannekecassel.com, 4/17] (33)
26: Hands In The Dirt, The Resonant Rogues [Self, new] (32)
26: Tennessee Moon, Ray Cardwell [Pinecastle, 1/17] (32)
28: Further Down The Line, Scott Cook [scottcook.net, 3/17] (31)
28: Play One More: The Songs Of Ian And Sylvia, Tom Russell [True North, new] (31)
30: A Calm Sun, Lesley Kernochan [Maple Syrup, 12/16]
30: Jayme Stone's Folklife, Jayme Stone [Borealis, 4/17] (30)
30: What She Said, Fred Gillen Jr [Dys, new] (30)
33: Baby Lets Take The Long Way Home, Nell Robinson And Jim Nunally [Whippoorwill, new] (28)
33: Solomon, Calan [Sain, 4/17] (28)
33: Sonny And Brownie's Last Train, Guy Davis And Fabrizio Poggi [M. C., 3/17] (28)
33: The Trailer Sessions, Hardened And Tempered [Fly Pants , 5/17] (28)
37: The Irishman's Daughter, Kitty Donohoe [Roheen, 4/17] (27)
38: Small Brown Birds, Zoe Mulford [Azalea City, 1/17] (26)
38: Trolling For Dreams, John McCutcheon [Appalsongs, 1/17] (26)
40: Everything, Darden Smith [Compass, 4/17] (25)
40: From Where I Started, Sera Cahoone [Lady Muleskinner, 3/17] (25)
40: Ironbark, The Waifs [Compass, 3/17] (25)
40: This Much Is True, Byrd And Street [byrdandstreet.com, 2/17] (25)
44: 50 Years Of Blonde On Blonde, Old Crow Medicine Show [Columbia, new] (24)
44: Manic Revelations, Pokey LaFarge [Rounder, new] (24)
46: Bonfire To Ash, Porter Nickerson [Weasel, 1/17] (23)
46: Kids In The Street, Justin Townes Earle [New West, new] (23)
48: Alastair Moock, Alastair Moock [Self, new] (22)
48: Other Love Songs, Front Country [Organic, 4/17] (22)
50: Divining Rod, Wyatt Easterling [Phoenix Rising, 3/17] (21)
51: Periscope Heart, Jackie Morris [Button Box, new] (20)
51: Shake Me Now, Quiles And Cloud [Compass, 3/17] (20)
53: Black Irish, Shannon McNally [Compass, new] (19)
53: The Dustbowl Revival, The Dustbowl Revival [Signature, new] (19)
53: Mount Royal, Julian Lage And Chris Eldridge [Free Dirt, 2/17] (19)
53: The Road We Once Knew, The Eisenhauers [Black Hen, new] (19)
57: I've Never Met A Stranger, Bumper Jacksons [Self, 5/17] (18)
57: Original, Bobby Osborne [Compass, new] (18)
57: This Is Absolutely Real, Pat Wictor [RiskyDisc, 3/17] (18)
60: Boots No. 1: The Official Revival Bootleg, Gillian Welch [Acony, 11/16] (17)
60: Brighter In The Dark, Mouths Of Babes [Wild Awake, 3/17] (17)
60: Going Home, Joe Newberry And April Verch [Slab Town, 3/17] (17)
60: In The Ground, The Gibson Brothers [Rounder, 2/17] (17)
60: The Wishing Hour, Lisa Bastoni [Self, 1/17] (17)
65: Blink, Rebecca Loebe [Black Wolf, 2/17] (16)
65: Escaped The Tide, Russ Rentler [russrentler.bandcamp.com, 3/17] (16)
65: Get Up And Do Right, Cathy Fink And Marcy Marxer [Community, 2/17] (16)
65: Will The Circle Be Unbroken, Various Artists [Capitol, 1972] (16)
65: Wow And Flutter, Amilia K Spicer [Free Range, new] (16)
70: Brooks' Blues, Brooks Williams [Red Guitar Blue, 2016] (15)
70: Close Ties, Rodney Crowell [New West, 3/17] (15)
70: Pretty Little Troubles, Malcolm Holcombe [Gypsy Eyes, 4/17] (15)
70: Workin's Too Hard, Rayna Gellert [StorySound, 1/17] (15)
Top Songs of May 2017
1. "Still Not Dead" (19)
by Willie Nelson
from God's Problem Child
2. "Let Me Sing You A Song" (17)
by Joe Jencks
from Poets, Philosophers, Workers And Wanderers
3. "God Bless The Grass" (15)
by The Malvinas
from God Bless The Grass
4. "Homeland Blues" (13)
by Alice Howe
from You've Been Away So Long (EP)
4. "I Did Not Make The World" (13)
by Harpeth Rising
from Against All Tides
6. "535" (12)
by Harpeth Rising
from Against All Tides
6. "Everybody Sings The Blues" (12)
by Joe Jencks
from Poets, Philosophers, Workers And Wanderers
6. "God Don't Like It – I Don't Either" (12)
by Joel Mabus
from Different Hymnals
6. "God's Problem Child" (12)
by Willie Nelson
from God's Problem Child
6. "Love Child" (12)
by Harpeth Rising
from Against All Tides
6. "Running On Empty" (12)
by Zoe And Cloyd
from Eyes Brand New
6. "Sing Me Like A Folk Song" (12)
by The Steel Wheels
from Wild As We Came Here
13. "Blow Away The Morning Dew" (11)
by Lindsay Straw
from The Fairest Flower Of Womankind
13. "Geordie" (11)
by Lindsay Straw
from The Fairest Flower Of Womankind
13. "Hands" (11)
by Joe Jencks
from Poets, Philosophers, Workers And Wanderers
13. "How Can I Keep From Singing" (11)
by The Malvinas
from God Bless The Grass
13. "Perfect" (11)
by The Mastersons
from Transient Lullaby
18. "Highwayman" (10)
by Harpeth Rising
from Against All Tides
18. "Little House On The Hill" (10)
by Willie Nelson
from God's Problem Child
18. "Solidarity Forever" (10)
by Joe Jencks
from Poets, Philosophers, Workers And Wanderers
21. "13 Years" (9)
by Tim Grimm And The Family Band
from A Stranger In This Time
21. "Diving Duck Blues" (9)
by Taj Mahal And Keb' Mo'
from TajMo
21. "Grace" (9)
by Montgomery Delaney
from Almost Anyone
21. "He Won't Ever Be Gone" (9)
by Willie Nelson
from God's Problem Child
21. "Make A Fool Out Of Me" (9)
by Alice Howe
from You've Been Away So Long (EP)
21. "Transient Lullaby" (9)
by The Mastersons
from Transient Lullaby
21. "You've Been Away So Long" (9)
by Alice Howe
from You've Been Away So Long (EP)