Winners in the 60th Grammy Awards' American Roots Music Field were recognized during a Premiere Ceremony that streamed online prior to The Recording Academy's televised awards show on Sunday, January 28 from Madison Square Garden in New York City — where the festivities returned in 2018 following a 15-year run in Los Angeles.
Jason Isbell and The 400 Unit's The Nashville Sound was named Best Americana Album, while "If We Were Vampires," one of its original songs penned by Isbell, won the Grammy Award for Best American Roots Song. Isbell's previous recording, Something More Than Fine, won the Grammy Award for Best Americana Album in 2016 and sported that year's Best American Roots Song, "24 Frames." Also a six-time Americana Awards winner, the former Drive-By Trucker was previously named Artist of the Year and won Album and Song of the Year honors during the Americana Music Association's 15th Annual Americana Honors & Awards Show in 2016. Last October, Isbell – who hails from Alabama and currently lives in Nashville, Tennessee – was named to be the official artist-in-residence at the Country Music Hall of Fame and Museum.
Singer-songwriter Aimee Mann's Mental Illness won Best Folk Album. Her first new studio recording in five years, it marks a return for Mann to a slower and more acoustic sound – with the focus on acoustic guitar, piano, and, of course, her voice — after she rocked out more on her previous album, 2012's Charmed. That recording had harkened back more toward her days as the lead vocalist for rockers 'Til Tuesday in the late 1980s.
For the first time in Grammy Awards history, there was a tie for Best Bluegrass Album — with the award going to both The Infamous Stringdusters for
Laws of Gravity
and Rhonda Vincent and The Rage for
All The Rage – In Concert Volume 1 (Live)
.
The Infamous Stringdusters feature Andy Hall (dobro), Andy Falco (guitar), Chris Pandolfi (banjo), Jeremy Garrett (fiddle), and Travis Book (double bass). Although the band has received a number of International Bluegrass Music Awards over the years, this marked its first Grammy win – having previously been among the nominees for Best Country Instrumental Performance in 2011. Released on Compass Records last January, Laws of Gravity is The Infamous Stringdusters' seventh studio album and was recorded while the band was on tour.
Rhonda Vincent & The Rage have won a bevy of awards overs the years from the International Bluegrass Music Association (IBMA) and The Society for the Preservation of Bluegrass Music in America (SPBGMA). Hailed as the queen of bluegrass music, singer-songwriter and multi-instrumentalist Rhonda Vincent is an eight-time IBMA vocalist of the Year and multi-time SPBGMA Entertainer and Female Vocalist of the Year. Her bandmates include Hunter Berry (fiddle), Brent Burke (dobro). Mickey Harris (bass & vocals), Aaron McDaris (banjo), and Josh Williams (guitar & vocals).
Other Grammy Award winners in the American Roots Music Field include:
Best American Roots Performance: "Killer Diller Blues" (Alabama Shakes)
Best Traditional Blues Album: Blue & Lonesome (The Rolling Stones)
Best Contemporary Blues Album: TajMo (Taj Mahal and Keb' Mo')
Best Regional Roots Album: Kalenda (Lost Bayou Ramblers)
Outside of the American Roots Music Field, Chris Stapleton, a country music artist who has also garnered considerable folk and roots radio airplay, received Gammy Awards for both Best Country Song ("Broken Halos," written with Mike Henderson0, Best Country album (From A Room; Volume 1) and Best Country Solo Performance ("Either Way"). A Kentucky-born singer-songwriter who formerly fronted The SteelDrivers, Stapleton has penned a number of songs that have topped the country music charts.
Americana Music Association, Folk Alliance International Hosted Pre-Grammy Events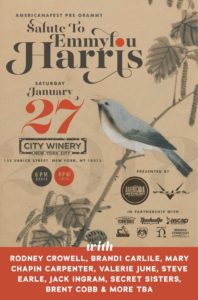 On Saturday, Jan. 27, prior to the Grammy Awards, both the Americana Music Association and Folk Alliance International hosted celebratory events at popular NYC live music venues City Winery and Joe's Pub, respectively. An Americanafest Pre-Grammy Salute to Emmylou Harris — who will be honored by The Recording Academy with a Lifetime Achievement Award later this year — was presented by the Americana Music Association and featured performances by Brandi Carlile, Mary Chapin Carpenter, Rodney Crowell, Steve Earle, Harris, Jack Ingram, Keb' Mo', and The Secret Sisters, among others. Hailing from northern Alabama, The Secret Sisters (Lydia and Laura Rogers) were among this year's nominees for Best Folk Album and also shared their sisterly harmonies at Joe's Pub during the afternoon, where Folk Alliance International honored past and present nominees in that category and other roots artists. Among the other artists at Joe's Pub were Ashley Campbell (Glen's daughter), Olivia Chaney of Ofa Rex (also a Best Folk album nominee), Rose Cousins (an award-winning Canadian singer-songwriter and the afternoon's emcee), Michael Daves, bluesman Guy Davis (whose collaboration with Fabrizio Poggi on Sonny and Brownie's Last Train earned a nomination for Best Traditional Blues Album), Anais Mitchell, and Dar Williams.
Americanafest is a six-day festival and conference celebrating American roots-inspired music that is put on by the Americana Music Association. Early registration is currently available for the next one that is set for Sept. 11-16 in Nashville and will feature educational panels and seminars, showcases at venues around the music city, and the annual Americana Honors & Awards Show. Established in 1999, the Americana Music Association is a professional trade association whose mission is to advocate for the authentic voice of American roots music throughout the world. For more information, visit www.americanamusic.org.
Folk Alliance International (www.folk.org) is a Kansas City, MO-based nonprofit organization that seeks to nurture, engage and empower the international folk music community – traditional and contemporary, amateur and professional – through education, advocacy and performance. It's 30th annual conference is slated for Feb. 14-18, in Kansas City, MO, and will feature presentations by Mary Chapin Carpenter and Richard Thompson, the Louis Jay Meyers Music Camp, the International Folk Music Awards, the third annual Kansas City Folk Festival, artist showcases, workshops, panel discussions, film screenings, an exhibit hall, and more.