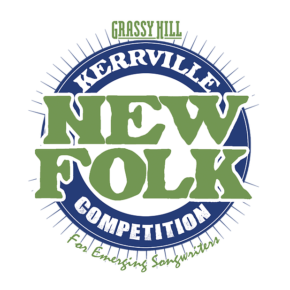 Thirty-two songwriters have been named as finalists in the 2017 Grassy Hill Kerrville New Folk Competition for Emerging Songwriters. Chosen from among more than 600 submissions from around the world, the finalists will perform the two songs they submitted at the New Folk Concerts slated for Saturday and Sunday afternoons, May 27 and 28, as part of the Kerrville Folk Festival. [To continue reading this article and see the list of Kerrville New Folk finalists, click on the headline.]
Some 800 performing artists, presenters, promoters, agents and managers, folk DJs and others actively engaged in contemporary and traditional folk music will converge on the Crowne Plaza in Stamford, Connecticut, Nov. 10-13, 2016, for the 22nd Annual Northeast Regional Folk Alliance (NERFA) Conference. AcousticMusicScene.com will again have a major presence as it hosts afternoon and late-night song swaps in addition to its popular Midnight Hoot at the close of the conference's first day. [To continue reading this conference preview – including listings of juried and AcousticMusicScene.com showcases -- click on the headline.]
Finalists have been named in the 2016 NewSong Music Performance & Songwriting Competition. Now in its 15th year, the contest showcases emerging performing songwriters. It is open to artists performing in all genres, although all songs must include a vocal with lyrics. [To continue reading this article, click on the headline.]
October 15 is the online submissions deadline for the 2016 NewSong Contest. Now in its 15th year, the competition showcases emerging performing songwriters. NewSong Music is an independent music organization that aims to build a supportive community of performers and songwriters across various genres of music and skill levels, while identifying truly exceptional artists and introducing their music to a broader international audience. [To continue reading this article, click on the headline.]
Rachael Kilgour, a Duluth, Minnesota-based singer-songwriter, was named the grand prize winner of the 2015 NewSong Contest after performing, along with eight other artists, during a music showcase and competition finals held January 7, 2016 at Lincoln Center's David Rubenstein Atrium in New York City. [To continue reading this article and view a couple of videos, click on the headline.]
Ten artists/groups have been named as finalists in the 2015 NewSong Contest and will perform live during a music showcase and competition finals set for 7:30 p.m. on Thursday, Jan. 7, 2016 at Lincoln Center's David Rubenstein Atrium (61 W. 62nd St., New York, NY). Admission is free, although seating is limited. [To continue reading this article, click on the headline.]
Songwriters are invited to enter the 2016 Telluride Troubadour Competition held in conjunction with the 43rd Telluride Bluegrass Festival that takes place June 16-19 amid Colorado's rugged San Juan Mountains. Entrants will vie for cash and other prizes, recognition, and the opportunity to perform at the festival. [To continue reading this article, click on the headline.]
Some 800 performing artists, presenters, promoters, agents and managers, folk DJs and others actively engaged in contemporary and traditional folk music will converge on the Hudson Valley Resort in Kerhonkson, New York, Nov. 12-15, 2015, for the 21st Annual Northeast Regional Folk Alliance (NERFA) Conference. AcousticMusicScene.com will again have a major presence as it hosts afternoon and late-night song swaps, in addition to its popular Midnight Hoot at the close of the conference's first day. To continue reading this conference preview, click on the headline.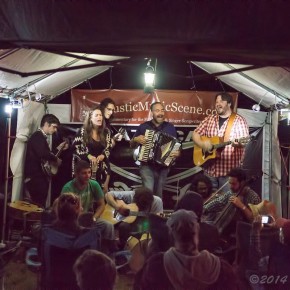 AcousticMusicScene.com will host a series of late-night song swaps during the Falcon Ridge Folk Festival, July 30-August 2, in partnership with Pirate Camp, which was informally launched by Stuart Kabak and the late Jack Hardy more than a decade ago to provide a warm and welcoming haven for sharing music, food and camaraderie. [To continue reading this preview of the Falcon Ridge Folk Festival and see the complete schedule for the AcousticMusicScene.com tent @ Pirate Camp, click on the headline.]
Caitlin Canty, a Vermont-bred, New York City-based singer-songwriter with an Americana-rootsy rock style, won the 2015 Telluride Troubadour Competition. She then performed a short set on the main stage during the 42nd Annual Telluride Bluegrass Festival, a roots-oriented music festival set amid Colorado's rugged San Juan Mountains, June 18-21. To continue reading this article, click on the headline.
The finals in the 2015 Telluride Troubadour Competition will take place during the 42nd Telluride Bluegrass Festival, June 18-21. The roots-oriented music festival takes place amid Colorado's rugged San Juan Mountains and coincides with the Summer Solstice. Ten singer-songwriters will each perform two original songs as they vie for ash and other prizes, recognition, and the opportunity to perform on the festival's main stage. Each finalist also receives an "in-the-round" workshop spot in Elks Park, a performance coaching session, and a short tweener main stage set over the festival weekend. [To continue reading this article, click on the headline or link below.]