More than 700 performing artists, presenters, promoters, agents and managers, folk DJs, and others actively engaged in contemporary and traditional folk music will converge on the Crowne Plaza in Stamford, Connecticut, Nov. 9-12, 2017 for the 23rd Annual Northeast Regional Folk Alliance Conference. AcousticMusicScene.com will again have a major presence as it hosts afternoon and late-night song swaps in addition to its popular Midnight Hoot at the close of the conference's first day.
Being held in Stamford for the second consecutive year after outgrowing its previous location in the Catskills of upstate New York, the NERFA conference will feature several jam-packed days and nights of music showcases, song swaps, informal jam sessions, panel discussions and workshops, a keynote by singer-songwriter Vance Gilbert, a Wisdom of the Elders session, a children's concert, short performances by Connecticut State Troubadours, one-on-one mentoring sessions, a large trade show-like exhibit hall, communal meals, a welcoming party and happy hours, and lots of informal conversation and networking.
Booking gigs may be the primary objective of some performers who attend the conference, and many presenters and folk DJs do scout out new artists and those whom they have not previously heard and seen in live performance. However, the conference experience is much more than that; it's really about forging connections, building community, and attending workshops and seminars to learn about options to further careers, promote the music, and attract audiences and listeners.
Singer-Songwriter Vance Gilbert Keynotes the Event
With his engaging personality, biting wit, soulful and resonant voice, and solid songwriting and performance skills, Vance Gilbert has been impressing audiences since emerging on the Northeast acoustic singer-songwriter scene during the early 1990s. A former multicultural arts teacher and jazz singer from the Philadelphia suburbs, he began playing open mics in the Boston area and soon attracted the attention of singer-songwriter Shawn Colvin. She invited him to be a special guest on a 1992 tour in support of her
Fat City
album. Gilbert has since released a dozen albums, toured extensively, and opened tours for the late comedian George Carlin.
Gilbert – who embarks on a 22-date eastern Australia tour immediately following the conference — enthralls concert and festival audiences with his moving lyrics and his strong tenor voice that can morph into falsetto when needed, as well as his stand-up riffs on contemporary societal mores. His songwriting and performance clinics at the Falcon Ridge Folk Festival, NERFA conferences, and the Rocky Mountain Song School also have drawn rave reviews from attendees.
54 Artists/Acts Perform in Juried Showcases on Friday and Saturday Nights
In addition to his keynote, Gilbert will present two performance workshops and showcase his own musical talents during the conference. His "Collision Course" workshops are among some two-dozen featured workshops and panel discussions. Other workshops will focus on such topics as activist artists in tumultuous times, budgeting and business planning for venues, diversifying the community, the DIY artist, engaging the next generation, a guitar master class, teaching while touring, venue marketing, and writing the funny song. The popular "On the Griddle" instant critique session, also returns. Also slated are morning yoga sessions led by singer-songwriter Caroline Cotter, while MusiCares will fit folks for custom earplugs.
Taking center stage during this year's conference will be 14 artists/acts selected by a panel of judges, each to perform a 15-minute formal showcase set on Friday and Saturday nights. Slated to perform on Friday are Andrew Collins Trio, Beth Wood, Bettman & Halpin, The End of America, The Early Mays, Kirsten Maxwell, and David Roth. Saturday's Formal Showcase lineup features Mari Black & The World Fiddle Ensemble, Dan Weber, Ryanhood, Sloan Wainwright, Elage Diouf, Martin Kerr, and Emma's Revolution.
After the formal showcases, attendees will shuffle between four conference ballrooms to catch short sets by 40 additional artists who were selected by a different set of judges. Performing in these semi-formal showcases on Friday night are (in alphabetical order) Clint Alphin, Emily Barnes, Bethlehem & Sad Patrick, The Black Feathers, Shawna Caspi, Dave Curley, Friction Farm, Abbie Gardner, Sharon Goldman, Hoot & Holler, Greg Klyma, Abigail Lapell, Paddy Mills, Emily Mure, Musique a bouches, Piedmont Bluz, Poor Man's Gambit, Katherine Rondeau & The Show, Robinson Treacher, and Josh White Jr. Saturday's semi-formal Showcase artists include Banjo Nickaru & Western Scooches, Lisa Bastoni, Rachel Beck, Sophie Buskin, Meghan Cary, Dunham Shoe Factory, Vance Gilbert, Alice Howe, Rod MacDonald & Mark Dann, Austin MacRae, Mama's Broke, Mike McKenna Jr, Zoe Mulford, No Good Sister, NUA, Elaine Romanelli, The Small Glories, Christine Sweeney, Ernest Troost, and Brad Yoder.
Following the juried showcases each evening, AcousticMusicScene.com and some three-dozen presenters, performers and others will host guerilla showcases in their hotel rooms that extend through the early morning hours. Community sings, informal jam sessions, thematic song circles and round-robin song swaps round out the musical mix. Musicians are also apt to stake out other areas of the hotel and jam into the early morning hours. Some guerilla showcases also are slated for Friday and Saturday afternoons.
AcousticMusicScene.com Midnight Hoot Features Artists and Singing Folk DJs
An overflow crowd will likely descend on the AcousticMusicScene.com suite on Thursday overnight for its popular Midnight Hoot. Extending from 11:30-2:30 a.m., the AcousticMusicScene.com Midnight Hoot is a pre-arranged, round robin song swap featuring a few singing folk DJs and some three-dozen artists/acts – each of whom will perform one song. A house band also will be there for anyone who desires accompaniment.
Now in its 11th year, the Midnight Hoot is intended to shine a spotlight on several folk DJs who also enjoy singing, while providing them, presenters and others with an opportunity to get a small sampling of the music of a lot of artists in a short period of time.
As in recent years, the musical festivities in the AcousticMusicScene.com suite will wrap up on Saturday overnight with an extended "O Canada" song swap. Carrying their instruments and the maple leaf, a number of talented Canadian artists will march into the room at 2 a.m. singing their national anthem.
Schedules for the AcousticMusicScene.com showcases appear below:
AcousticMusicScene.com Midnight Hoot
Thursday, Nov. 9, 2017 11:30 p.m. – 2:30 a.m.
(One song per artist and folk DJ, not in order of appearance)
Host: Michael Kornfeld
Folk DJs: Jim Colbert, Graham & Barbara Dean, Wanda Fischer, Jon Stein
Artists: Clint Alphin, Antonio Andrade, Banjo Nickaru & Western Scooches, Orly Bendavid & the Mona Dahls, Sophie Buskin, Quentin Callewaert, Susan Cattaneo, Sara Chodak, Greg Cornell, Dave Curley, Alyssa Dann, Nancy Dillon, Freebo, Friction Farm, Tret Fure, Gathering Time, Gina Holsopple, Alice Howe, Jaeger & Reid, Brian Kalinec, Susan Kane, Judy Kass, Mara Levine, Eric Lee, Rob Lytle, Pete Mancini, Kirsten Maxwell, Millpond Moon, Kim Moberg, Annie Moscow, Andrea Nardy, Nico Padden, The Renfrees, Patty Reese, Hank Stone, Taylor Pie, Toby Tobias
House Band: Greg Cornell (guitar), Mark Dann (bass), Jagoda (percussion), Eric Lee (violin), Nick Russo (banjo).
Friday Afternoon, Nov 10, 2017
2:00 Long Island Sounds: Bryan Gallo, He-Bird, She-Bird, Hank Stone
2:30 Long Island Sounds: Scott Krokoff, Christine Sweeney, Toby Tobias
3:00 Hudson Valley Songsters: Steve Chizmadia, Susan Kane, Judy Kass
3:30 Voices of Upstate New York: Marc Black, Gina Holsopple, Colleen Kattau
4:00 Jersey Gals: Loretta Hagen, Katherine Rondeau
4:30 Sea Shanty Sing with The Royal Yard (Stuart Markus & Robin Greenstein)
Friday Night, Nov 10, 2017
11:45 Greg Cornell
12:00 STEADY ON: Celebrating Lilith Fair at 20: Sharon Goldman, Amy Soucy, Sloan Wainwright (with Stephen Murphy)
12:30 Harmonic Convergence: Gathering Time, KC Groves, Mara Levine
1:00 Keystone Staters: Antonio Andrade, Meghan Cary, No Good Sister
1:30 Two Trios: The Belle Hollows & The Early Mays
Saturday Night, November 11, 2017
11:45 Banjo Nickaru & Western Scooches
12:00 Songswarm: Peter Calo, Brian Kalinec, Taylor Pie
12:30 A Trio of Duos: Friction Farm, The Levins, Miles & Mafale
1:00 Two Gals and a Geezer: Freebo, Alice Howe, Kirsten Maxwell
1:30 Three Guys from New England: Marc Douglas Berardo, Jud Caswell, Rob Lytle
2 :00 O Canada: Rachel Beck, Matthew Byrne, Shawna Caspi, Andrew Collins Trio, Elage Diouf, Gathering Sparks, Martin Kerr, Abigail Lapell, Mama's Broke, David Newland (guest emcee), Cheryl Prashker (percussion), Benjamin Dakota Rogers
"We hope that all of our attendees will share a meal and/or a song with new friends they don't yet know, embrace the spirit of community that NERFA represents, and have a great conference experience," said Michael Kornfeld, president of NERFA's board of directors and editor and publisher of AcousticMusicScene.com. He expressed thanks to Dianne Tankle, NERFA's longtime conference director, and her team of volunteers for all of their efforts in arranging the event.
Here's a link to a video montage that Neale Eckstein created following the 2016 NERFA Conference: https://www.facebook.com/neale.eckstein/videos/10154271098733893/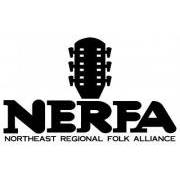 NERFA (www.nerfa.org) is a regional affiliate of Folk Alliance International, a Kansas City, MO-based nonprofit organization that seeks to nurture, engage and empower the international folk music community – traditional and contemporary, amateur and professional – through education, advocacy and performance.
Editor's Note: My thanks to Hank Stone for his assistance in setting up the AcousticMusicScene.com showcase room and for guest-hosting Friday afternoon song swaps along with fellow singer-songwriters Stuart Markus and Toby Tobias, and to Amy Blake, Arpie Maros and Sybil Moser for the loan of folding chairs.
In addition to hosting the AcousticMusicScene.com Midnight Hoot and other showcases, leading a community meeting with the NERFA board of directors as its president, and assisting a few artist clients who will be showcasing their talents during the conference, I will be doing some mentoring on various public relations and strategic communications topics.