Sixteen artists/acts have been selected to perform Official Showcases during the 2017 Southwest Regional Folk Alliance (SWRFA) Conference, Sept. 27-Oct. 1, at the Holiday Inn – Midtown in Austin, TX. Eight will perform on Friday night, while another eight will do so on Saturday night. In addition, eight alternates have been invited to showcase their talents late Thursday night, the 28th.
Slated to perform in the hotel's ballroom on Friday, Sept. 29, from 7:30-10 p.m., are The Whispering Tree, George Ensle, Angela Parrish, Andy Corwin, Cosy Sheridan, Hardened and Tempered, Winona Wilde, and Ordinary Elephant.
Saturday night's lineup features Heather Pierson Acoustic Trio, Bethel Steele, Daniel Pelletier, Laura Zucker, Warren Hood, Terry Klein, American Dreamer, and Emily Herring & the FM Trio.
Rich Warren, host of the nationally syndicated "The Midnight Special" radio show that emanates from Chicago's WFMT-FM, emcees both nights. In addition to conference registrants, the official showcases will be open to the public for a $15 cover charge each night.
Following a popular pool party and open mic hosted by singer-songwriter Butch Morgan on Thursday night, Charlie Stewart of Handshake Management will emcee the Official Alternates Showcase in the hotel's Elm Room. Set to perform short sets beginning at 10:30 p.m. are Jaime Michaels, Kalinec & Kj, The Keller Sisters, Letitita Van Sant, Mia Rose Lynne, The Cowboy Way, Doug Gill, and Ben Shannon.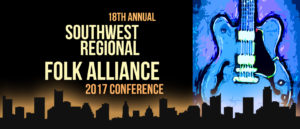 Besides the official showcases, the SWRFA Conference will feature open mics, in-room showcases extending into the early morning hours, and daytime panel discussions and seminars that address many facets of the music business, according to Dalis Allen, who produces the conference, as well as the annual Kerrville Folk Festival. "We eat meals together, form wonderful new relationships and renew old ones," she notes. "And we are certain to have fun."
Conference registration is $195 for Folk Alliance International members and $225 for non-members if paid by Sept. 17 and rises by $30 after then. Included with registration are five meals and a cocktail party.
SWRFA is a regional affiliate of Folk Alliance International, a nonprofit organization that aims to nurture, engage and empower the international folk music community — traditional and contemporary, amateur and professional — through education, advocacy and performance. SWRFA includes the southwestern United States and Mexico. Its 18th annual conference is expected to draw performing artists, presenters, managers, agents and others engaged more than peripherally in the world of folk and acoustic music. For more information, visit www.swfolkalliance.org.
As previously reported on AcousticMusicScene.com, official showcase artists also have been selected for three other regional affiliates of Folk Alliance International that hold their annual conferences in the fall – Folk Alliance Region – West (FAR-West), Folk Alliance Region Midwest (FARM) and Northeast Regional Folk Alliance (NERFA). Here's a link to that article: http://acousticmusicscene.com/2017/07/23/official-showcase-artists-named-for-2017-far-west-farm-and-nerfa-conferences/
Semi-Formal Showcase Artists Selected for NERFA Conference in November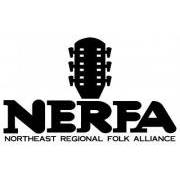 Northeast Regional Folk Alliance (NERFA) also recently named 40 artists and acts to perform in its newly renamed Semi-Formal Showcases (formerly tricentrics and quadcentrics) during its 23rd annual conference in Stamford, CT, Nov. 9-12. Listed alphabetically by group or last name, they are Clint Alphin, Lisa Bastoni, The Beck Sisters, Bethlehem and Sad Patrick, The Black Feathers, The Boxcar Lilies, Sophie Buskin, Meghan Cary, Shawna Caspi, Dave Curley, Dunham Shoe Factory, Frances Luke Accord, Friction Farm, Abbie Gardner, Vance Gilbert, Sharon Goldman, Hoot and Holler, Alice Howe, Greg Klyma, Erika Kulnys, Abigail Lapell, Rod MacDonald, Austin MacRae, Mama's Broke, Mike McKenna Jr., Paddy Mills, Zoe Mulford, Emily Mure, Musique a bouches, No Good Sister, NUA, Piedmont Bluz, Poor Man's Gambit, Elaine Romanelli, The Small Glories, Christine Sweeney, Robinson Treacher, Ernest Troost, Josh White Jr., and Brad Yoder Duo.
The juried Semi-Formal Showcases immediately follow NERFA's coveted juried Formal Showcases. Half of these artists will showcase their talents on Friday night, Nov. 10, while the other half will do so on Saturday night, Nov. 11.
Named as Alternates for the Semi-Formal showcases are Banjo Nickaru & Western Scooches, Emily Barnes, Meaghan Blanchard, Gabrielle Louise, The Malvinas, Alastair Moock, and Katherine Rondeau and the Show.
Dave Curley, Rod MacDonald (with Mark Dann) and Mama's Broke were offered Semi-Formal Showcases slots having been selected as alternates for the Formal Showcases that precede them.
Editor's Note: Although I serve as president of the NERFA board of directors and as a board member of Folk Alliance International, I am not involved in showcase judging for any of the conferences.